Just for the fun of it, here's some easy, (sort of quick) recipes to warm things up as Winter starts to show itself. If you like these, let me know and I'll turn it into a monthly series or something like that.
Prosciutto, Kale & Butter Bean Stew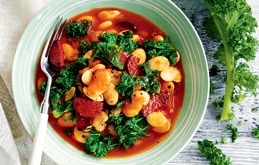 • Prep time: 5 minutes
• Cook time: 20 minutes
• Easy
• Serves 4
Whip up this healthy stew in just 25 minutes with prosciutto, kale and butter beans. It's a great low-calorie, low-fat, gluten-free dinner.

Ingredients
80g. pack prosciutto, torn into pieces
2 tbsp. olive oil
1 fennel bulb, sliced
2 garlic clove, crushed
1 tsp. chilli flakes
4 thyme sprigs
150ml. chicken stock
2 x 400g. cans butter beans
400g. can cherry tomatoes
200g. bag sliced kale
Method
STEP 1
Fry the prosciutto in a dry saucepan over a high heat until crisp, then remove half with a slotted spoon and set aside. Turn the heat down to low, pour in the oil and tip in the fennel with a pinch of salt. Cook for 5 minutes until softened, then throw in the garlic, chilli flakes and thyme and cook for a further 2 minutes, then pour in the wine or stock and bring to a simmer.
STEP 2
Tip both cans of butter beans into the stew along with their liquid, then add the tomatoes, season well and bring everything to a simmer. Cook, undisturbed, for 5 minutes, then stir through the kale. Once wilted, ladle the stew into bowls, removing the thyme sprigs and topping each portion with the remaining prosciutto.
Recipe from Good Food magazine, December 2017
Chilli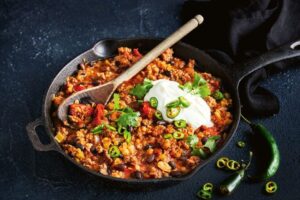 • Prep time: 10 minutes
• Cook time: 30 minutes
• Easy
• Serves 4
Ready in 40 minutes, this healthy Mexican beef chilli is packed with veggies and served with natural yogurt.

Ingredients
1 tbsp. olive oil
1 onion, finely chopped
2 celery sticks, finely chopped
500g. extra lean ground beef
3 tsp. Mexican spice mix
2 tsp. ground cumin
115g. (1/2 cup) red lentils
400g. finely chopped tomatoes
120g. chargrilled capsicum strips, drained
400g. black beans or kidney beans, rinsed, drained
1/2 cup chopped fresh coriander
2 long fresh green chillies, sliced
Natural yogurt, to serve (optional)
Method
STEP 1
Heat the oil in a large heavy based pan over medium-high heat. Add onion and celery and cook, stirring, for 1-2 minutes. Add ground beef and cook, breaking up any large pieces with a wooden spoon, for 4 minutes Add the spice mix and cumin. Season well.
STEP 2
Stir in lentils and tomato. Add 375ml (1½ cups) water. Bring mixture to a boil. Reduce heat and simmer uncovered for 20 minutes or until the lentils are cooked and mixture has thickened.
STEP 3
Stir through the capsicum and beans and cook for 1-2 minutes. Stir through half the coriander and half the chilli. Serve in bowls. Scatter with the remaining coriander and chilli. Serve with yogurt if you wish.
I hope you enjoy these. Please let me know if you try them and how they turned out.
I'll post a couple more next time.